"My name is Lindsey and I am founder of Little Fish Event Management Ltd, a business to business events agency."
Little Fish Event Management organises events, conferences, trade stands, exhibitions and awards on behalf of corporate clients. I launched the business in June 2014 instead of returning to my city job after maternity leave. The experience of launching a business after having a baby was the inspiration behind launching the Mums Enterprise Roadshow which is a work and business event for ambitious mums which is a brand new event idea organised by Little Fish.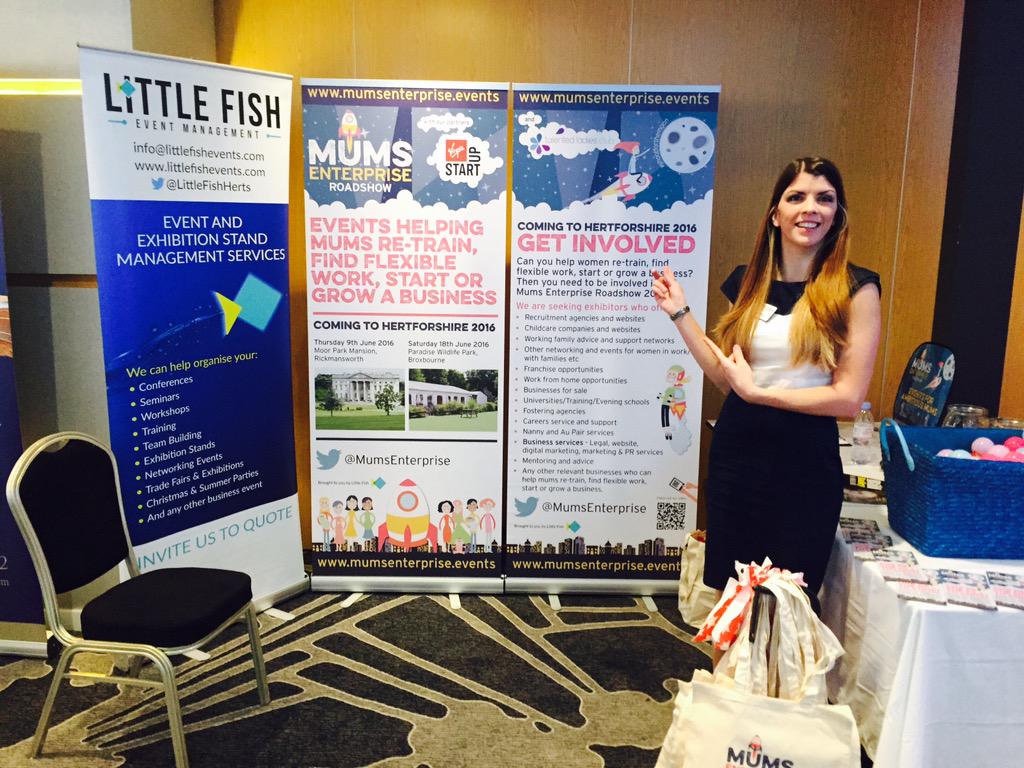 Molly is three this year, I work from home and everybody who works with me on event projects is based remotely and that is how I intend to grow the business. Offering opportunities on a flexible, remote basis because I know it's the future of our working world. I have had a love for events since I was an apprentice 16 years ago (ouch) and am so glad I was given the opportunity organise events so early on. I am now getting involved in forming the standards for the new Event Management apprenticeship which should be available later this year.
In 2014 I was shortlisted for Young Entrepreneur of the Year at the Hertfordshire Business Awards, we have featured in Event Magazine, Exhibition News, Start Up Business Magazine and in the Guardian Small Business Network showcase for home business innovation. I am so proud of where we are and excited about where we are going.
Why did you start Little Fish Events Management?
I faced the common conundrum which pretty much every mum faces when nearing the end of maternity leave, the what now! I couldn't return to my city job as I had no family nearby, a long commute and I didn't want to put Molly into childcare for 10+ hours a day. I knew 100% I could deliver events as a service and from home so I started researching and planning the launch of my own event management company.
You also run Mums enterprise Roadshow, how do you find the time to manage both companies and still find time for Molly?
Indeed, it's getting very busy which is why it's time to start expanding. I have a very flexible childminder which is awesome, I started putting Molly into childcare for just 8 hours a week when I launched, which was just enough time to network and make calls. Now she is in childcare for about 20-25 hours a week. My routine is usually 8.30am-3pm work, pick Molly up and play, make dinner, bed and bath then I get back to work again around 8pm and work in the evenings.
I am very conscious of being totally open to other people's skills and am very aware when I have reached my own limits. So for instance I am working with another ambitious mum Sheryl who manages our social media for Mums Enterprise. It means I am not trying to do everything. Other areas which I have delegated are using a PR agency to help raise the profile of our events and having a lovely Virtual Assistant in Beth who helps with invoicing and money matters as that's just not my bag. I can't forget to mention my amazing business partner who was brought into the company as Creative Directory earlier this year. Lucy Chaplin, who is also a friend and looks after everything 'design' for the business. She brought the Mums Enterprise brand to life and also manages Little Fish client design projects.
Being heavily involved in events, why are they an important resource for both new and current mothers who want to start their own business?
The world is very digital and everything is available online, but you really can't beat face-to- face interaction. Plus there really is so much out there now, so much support, opportunities and options available for mums no matter what they want to do.
An event is the ideal platform to get inspired and seek out opportunities which could be the right fit. They can help with finding support and services a mum may need to launch a new business or indeed grow an existing, already successful business. Then there is the networking aspect, the world can be a daunting place for a mum perhaps lacking a little self- esteem or confidence, so meeting and speaking with mums in the same position will really help and make women see that they are not alone and these feelings are felt by many.
How do you currently go about promoting these events towards mums?
Well this is the biggest task we will sell about 200 tickets for each of our events this June so my strategy is to reach hundreds of thousands of mums, attract thousands to the website and sell hundreds of tickets. In order to reach hundreds of thousands of ambitious mums we are doing a LOT of activity. Event listings, I have invested in our Social Media expert
Sheryl who is managing our platforms and email communications, we are advertising on social media, buying advertising for instance we are having a big poster in Rickmansworth tube station and have banner adverts on Mumsnet. I am paying for enhanced event listings on website such as Netmums and local what's on websites. Then there is PR I am ucky to be working with Alison and Eleanor at Adison PR who have the contacts we need to make an impact in both national and local press. It is all about sharing our story, who we are and shouting from the rooftops that we exist. Oh then there is leveraging our exhibitors own individual networks, we have huge companies with huge followings so are working with them to share the news of the events and their involvement through their own channels too.
How has running Little Fish Events Management and Mums Enterprise changed your view of family life?
I couldn't go back working the 9-5 now, no way. It's so much better having your own schedule to work to, making your own decisions about where you need to be and when. Work is important but so is family so I make sure we do things as a family at weekends and that I jump cot of work mode when Molly is around. For one you can't get anything done with a toddler and its unfair for her. I haven't had a family and worked in any other way so for me it's about making it work for us all and that work is part of life but it doesn't take over as what's the point of working if you don't actually enjoy yourself outside of work.
In the next year where would you like to be with both Little Fish Events Management and Mums Enterprise?
I would like somebody else to be leading Little Fish, for us to win further client event contracts and to start building an event team so I personally don't manage as many client events. For Mums Enterprise we are planning a minimum of four events in 2017 so it will be ensuring the first two are a success, making sure we get feedback about how they went for exhibitions and attendees. Then using that to nurture and make them better, the aim is for the events to be the UKs number one of its kind and the only way to do that is by making sure attendees really benefit and gain from attending, the events are all about the mums/women/maybe some men who attend and I won't have it any other way.